News for the Festive Season
MERRY CHRISTMAS!
from Matchett Productions & Big Sissy Foods

As the year draws to a close, we would like to take this opportunity in thanking all our food loving supporters, suppliers, family, friends and staff. We wish you all a safe and restful break after what has truly been a remarkable year.
Please take note of our festive season closure dates listed below.

Our online shop continues to be open for you to place orders over the Christmas and New Year period. Please note that dispatch of orders will occur once a week only.
Wishing you a very Merry Christmas and look forward to the year ahead.

Festive Season closure:
Thursday 24 December - Monday 11 January 2021

Cheers,
Vicki & The A Team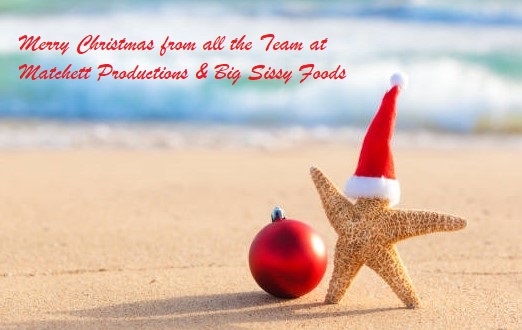 Previous Posts
Recipe of the Week
Customer Reviews
"Just wanted to say how much we have enjoyed your products. I purchased a hamper from you for my husband for Father's Day and it was fantastic. We have made some of the recipes from the cookbook and they were so delicious and so easy. All of my family just love the Storm dressing – there is nothing like it. Thank you" Robyn